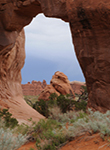 Most Common Quetions about my Photography Process
Unique Pieces
Handmade Hardwood Frames

These are "Museum" quality frames. I make the frames using a variety of different hardwoods. I use a half-lap cornering system with contrasting dowels (optional) in the corners . I use hardwoods with tones that communicate with color tones in an image. This leads me to use some very unique woods, such as Canary, Redgum, Ambrosia Maple, etc.

What makes my work standout from other photographers?

There are a number of good photographers out there that have great composition and solid technical technique and can produce a powerful image. But none are offering a print and frame combo like I do. I now sell my frames separately for folks who want a true hardwood, handcrafted frame, for that special piece, to be handed down to the generations that follow.
Film and Paper
Tradiditional Photography

Images that are taken using film and printed on photographic paper, not inkjet paper.

Why Fuji Velvia, Slide Film?

Fuji has mastered the rendering of nature's colors. It uses chemistry to "naturally" saturate colors. In my opinion, this film produces a better quality color rendition of nature than a digital censor.

Why Slow Speed, Medium Format Film

The size of the film, coupled with a slow speed, allows for high quality enlargements, 40x60 inches or bigger.

Why Fuji Crystal Archival Paper?

Fuji created this paper with two primary functions in mind, color rendition and longevity. The paper was designed to communicate with their film, accurately transferring the color from film to paper.

Traditional Paper vs Ink Jet

The traditional photographic process brings out the color that is embedded in the paper. Ink Jet layers ink on top of the paper, which can cause a sheen, depending on the angle of light and your position to the image. Both papers posses a high "longevity" quality.
Mounting and Mating
Why Hing Mounting?

Hinge mounting is just as it sounds. It's a process in which the photograph is "hinged" to the paper, allowing the paper to be lifted up off the mount board, keeping the image in its original state, allowing it to appreciate in value.

Why not use Hot or Cold Presses to mount?

Presses use adhesives and therefore alter the condition of the original photograph. Once a photograph is no longer in its original state, it loses its value. These types of presses will make an image lie flat. That's about the only positive, the question is for "how long?" Bubbling can occur over time. Also, the adhesives can cause the print to breakdown prematurely. They can also cause what's called an "orange peel" which results in a ripply affect.

Why Acid Free Materials?

Acid-free materials are used throughout the presentation process. Anything other than acid-free materials will cause the image to breakdown prematurely.
Limited Edition
Signed and Numbered

All images, either photographic paper or canvas, are signed and numbered in a 500 series. As the number of images sold increases, so does the value, i.e. for every 10 sold, the price of the next ten in the series, increases by 10%. This pricing structure repeats itself for every 10 sold.